THANK YOU TO OUR 2019 SPONSORS
We are grateful to the foundations, organizations, and individuals who are supporting this effort to advance the SEL movement and improve outcomes for all children.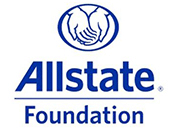 The focus of The Allstate Foundation's Good Starts Young® signature initiative is to ensure youth are prepared to be successful in school, work and life. We do this by increasing thedelivery of programs – before, during and after school – that build social and emotional learning skills and promote service-learning opportunities. These skills and activities are shown to have a positive immediate and long-term impact on academic engagement, workplace readiness and civic action to ensureyoung peopleultimately realize their full potential, achieve life success and serve their communities. In 2018, more than 10 million youth engaged in Allstate Foundation-supported programs.
The Allstate Foundation works to create more prosperous communities where people are empowered to fulfill their hopes and dreams by inspiring the next generation of leaders, breaking the cycle of domestic violence, strengthening nonprofit leadership and the sector, and honoring Allstate volunteers. For updates on The Allstate Foundation's initiatives, follow The Allstate Foundation on Facebook, Twitter and Instagram. The Allstate Foundation is an independent charitable organization made possible by subsidiaries of The Allstate Corporation.More information on The Allstate Foundation is available at AllstateFoundation.org.