REGISTRATION IS NOW OPEN!
| | |
| --- | --- |
| Date & Time: | Thursday, October 15, 2020 from 12:00 PM – 4:00 PM ET |
| Event Cost: | $125/person |
Register Now
---
What is the 2020 SEL Exchange Virtual Summit?
The Virtual Summit is a clarion call — a call to action for adults to leverage social and emotional learning to prioritize the agency and expertise of young people in re-designing schools and communities so all can thrive.
The voices of young people are unrelenting and clear, proclaiming their power to co-create a society more just, more caring, and more inclusive of perspectives previously devalued or dismissed.
Participants will hear from a diverse cross-section of voices – young people, researchers, educational leaders, and community partners – all dedicated to understanding dimensions of individual and societal healing and transformation through SEL, anchored by an unwavering commitment to equity.
Join the 2020 SEL Exchange Virtual Summit to explore strategies for "Catalyzing our Collective Commitment to Youth" focusing on identity, agency and belonging.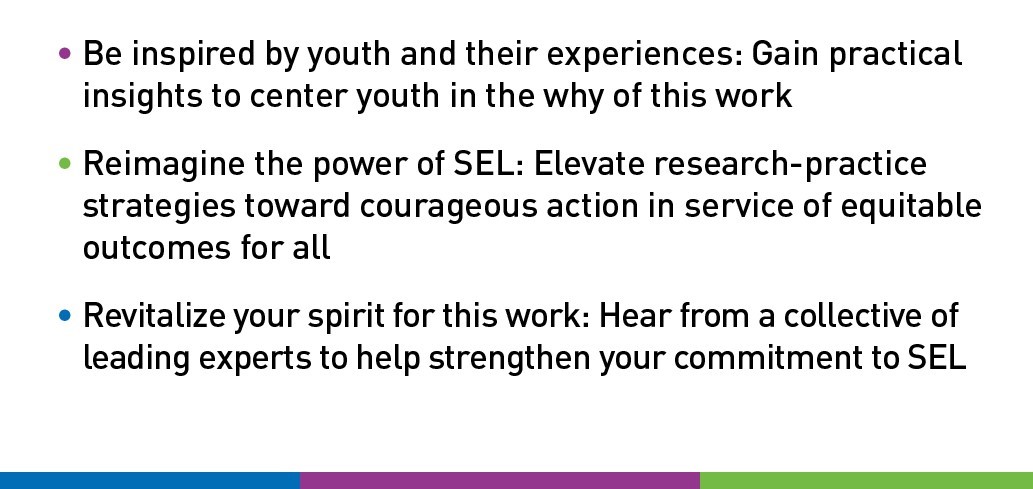 Event Information
Thursday, October 15, 2020
12:00 PM – 4:00 PM ET
Key Dates
Sponsored Webinar:
September 24, 2020 at 3:30pm ET.
REGISTER HERE.
Brought to you by Committee for Children
Stay Up to Date
Sign Up Now