Blog - Merrilea Mayo
Return to Webinar & Blog Series Page >
9/4 Blog - Merrilea Mayo
Merrilea Mayo, Founder, Mayo Enterprises, LLC
Why do you believe the SEL field is gaining momentum and how do you hope the upcoming SEL Exchange captures and advances that momentum?
It's a rough measure, but Google Trends gives some idea of how concepts and movements are trending with time. In Figure 1 you can see how SEL is slowly gaining momentum in Google searches relative to more conventional "academic learning" searches. So, the phenomenon is real. It should also be noted that the country with maximum SEL search activity is Singapore, (see Figure 2). With respect to what the SEL Exchange can accomplish, it should (hopefully) be able to get the word out to a broader swath of the world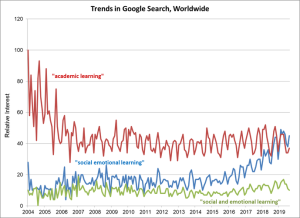 Figure 1:
Google search intensity for "academic learning," (red) vs. "social emotional learning" (blue), and "social and emotional learning (green)," Jan 2004-July 2019. The y axis is relative, with "100" representing the highest point of interest amongst any of the searches for any month. Data from Google Trends.

Figure 2:
Google search intensity by country, for "social emotional learning," in the time frame Jan 2004-July 2019. Search intensity is calculated from the total number of searches on "social emotional learning," divided by the total number of all Google searches in that country. The results are then normalized so that the top country for search intensity, Singapore, becomes 100. Data from Google Trends.
What is the project or initiative you're working on that you're most excited about?
The project I'm most excited about is unfortunately in the hush-hush phase, so I can't say a lot about it. However, it involves new ways to connect working and learning, so that individuals without four-year degrees (which is about two-thirds of the US) have upward mobility again. If we do this right, it will be huge. If we do it wrong, we'll at least have moved the field forward. SEL will be more involved once its summative measures are mature enough for organizations to base life-altering decisions (degrees, employment) on them.
At the Exchange you'll be participating in a plenary session focused on social and emotional learning and the future of work. Can you give a sneak peak of a few insights you'll be sharing in October?
One thing I'd like to share is that when employers say employees have poor "communication" or "teamwork" skills, it is really helpful to have them give real-life examples of this, because you'll find that in every worst-case example they come up with, the problem is not really "communication" or "teamwork," but poor emotional regulation. Common scenarios include outbursts against coworkers, "giving as good as I get" to rude customers, murder (!) of coworkers after a disagreement, emotional and political back-stabbing of coworkers due to perceived slights, failure to inform management of necessary bad news (intentionally avoiding difficult discussions for fear of emotional fallout is extremely common), ghosting (avoiding difficult discussions again), responding to even mild criticism from one's boss with threats of legal action, and more. CASEL could develop a "workforce interventions" arm and use the revenue from that to fund its K-12 work. It would also be highly instructive, I think, for K-12 SEL instructors to see where lack of SEL skills lands most people in their lives down the road.
Return to Webinar & Blog Series Page >
Event Information
October 14-16*, 2020
Pre-Conference Day: October 13, 2020
Renaissance Schaumburg Convention Center Hotel | Schaumburg, IL
*Programming ends at noon on October 16, 2020
Latest Updates
Call for Exhibitors
is now closed.
Call for Submissions
is now closed.
Mark Your Calendars
Registration:
Opens Spring 2020
Stay Up to Date
Sign Up Now